July 14, 2014 AmeriCorps team, volunteers work on projects By Mary Catherine Brooks Wyoming County Bureau Chief – See more at: http://www.wycoreport.com/localnews/x1736706945/AmeriCorps-team-volunteers-work-on-projects#sthash.TuSEhHGU.dpuf
http://www.wycoreport.com/localnews/x1736706945/AmeriCorps-team-volunteers-work-on-projects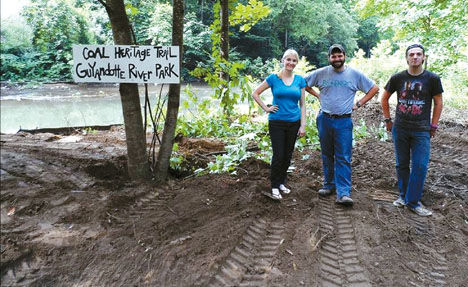 July 14, 2014 AmeriCorps team, volunteers work on projects By Mary Catherine Brooks Wyoming County Bureau Chief Wyoming County Report Mon Jul 14, 2014, 05:01 AM EDT An AmeriCorps NCCC six-member team from Vicksburg, Miss., is spending 10 weeks in Mullens through the Rural Appalachian Improvement League (RAIL). On Friday, the team, along with local volunteers, will work at the Guyandotte River Park, located near Wyoming County East High School and part of the Coal Heritage Trail, according to Dewey Houck, RAIL director. The team will also assist with Wyco Church restoration efforts, a Friends of Milam Creek plan and Mullens Opportunity Center tourism enhancement projects. Ages 18-24, the group will be housed in the MOC, Houck said, and contribute more than 2,400 volunteer hours at no cost to the community, with the exception of their lodging. AmeriCorps NCCC is a federal program similar to the Citizens Conservation Corps of the 1930s. Sponsoring organizations, such as RAIL, must provide sleeping and cooking accommodations as well as community service projects, Houck noted. Sponsors must also provide a detailed grant application and concise project schedule. Team members provide their own transportation, purchase their food and cook their own meals, Houck said. "The Mullens Opportunity Center has facilities for teams such as NCCC, and MOC staff and volunteers are excellent hosts for out-of-town work crews," Houck emphasized. "The NCCC team visit to Mullens is made possible by volunteers that make up RAIL that will orchestrate over 15,000 hours of volunteer service dedicated to community and economic development in southern West Virginia in 2014," Houck said. Last year, three NCCC teams assisted with Boy Scout Community Service Initiative projects at the MOC, Houck said. Prior to 2013, six teams helped with flood cleanup, building the Tater Hill picnic pavilion, and constructing the MOC's outdoor stage and Jack Feller Information Center. – See more at: http://www.wycoreport.com/localnews/x1736706945/AmeriCorps-team-volunteers-work-on-projects#sthash.TuSEhHGU.dpuf
---
April 14, 2014
Free garden plots available for disabled individuals By Mary Catherine Brooks Wyoming County Bureau Chief
Free garden spaces are being made available to physically-challenged individuals at the Mullens Opportunity Center, in conjunction with the Rural Appalachian Improvement League (RAIL), on a first-come, first-serve basis. Only a limited number of the small garden spots are available to those with such disabilities as arthritis, respiratory illnesses, among other physical limitations. Ergonomic tools will also be available for the physically-challenged gardeners, according to Charlene Cook, project director. Over the past few years, RAIL has sponsored multiple community gardens at the center, Cook said. "This year, we are making an extra effort to support physically-challenged persons," she noted. "You may have COPD, or other chronic illnesses, and would like to plant a garden. We welcome you to the MOC." Cook, with the Wyoming County Diabetes Coalition Healthy Lifestyle Program, and Faron Lucas, Experience Works, will co-direct the project. "We have raised beds and regular gardening spaces available with concrete walkway accessibility to accommodate gardeners with physical limitations," she noted. The mission of RAIL is to improve life quality for families living in the coalfields and the Healthy Lifestyle program is an important component in that pursuit, Cook said.  "RAIL is managed by the people and for the residents in the coalfields, and we look to those that have a need to participate in the process. "Dealing with those who are plagued with arthritis would be a new specialized target, but we feel a good place to help bring comfort to those who suffer with joint pain," she said.
-For more information or to reserve a space, phone 304-294-6188.
– See more at: http://www.wycoreport.com/localnews/x1535562131/Free-garden-plots-available-for-disabled-individuals#sthash.QB5QW7W2.dpuf
---
October 28, 2013
New roadside park being constructed By Mary Catherine Brooks Wyoming County Bureau Chief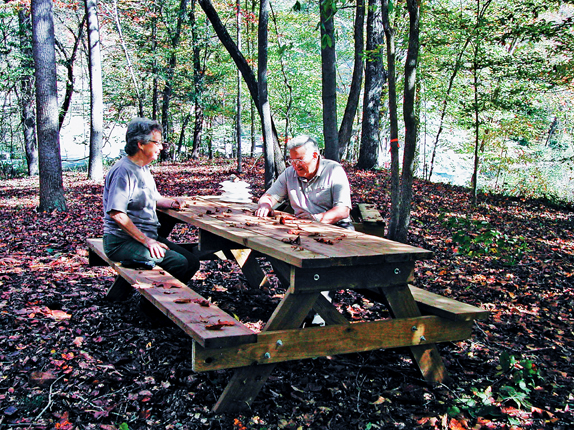 NEW RICHMOND — Work on a new roadside park, between Mullens and Pineville, is well under way, according to Dewey Houck, director of Rural Appalachian Improvement League (RAIL).
Creating the Guyandotte River Roadside Park/Outdoor Educational Center began in July as part of the Boy Scouts' community service projects. With fires blazing and the sounds of tools shattering the riverside oasis, a team of students and staff from Butler University, in Indianapolis, Ind., completed three days of work, Oct. 17-19, clearing a picnic area and a walking trail that loops the park, Houck said. With the help of local volunteers, the students cut brush and trees, removed trash, constructed steps along the trail and placed picnic tables. The three-acre site, leased from Pocahontas Land, will be an engaging stop for travelers along the Coal Heritage Trail, Houck believes. "People traveling need a place to stop," Houck noted. "This is such a beautiful spot; it's a wonderful roadside park. "It's just off the highway. "Everything will be handicap-accessible. "You will be able to put a canoe in the river here," he added. "You'll be able to watch the train from here. The train will be something that makes the park unique." The picnic area sits atop a knoll overlooking the trail, the Guyandotte River as well as W. Va. 10/16. Additionally, Houck wants to create an outdoor classroom for students. Wyoming County East High School sits only half-a-mile away. "It would be an easy walk from the school," Houck noted. He said students could conduct water testing, explore aquatic life, and study the environment. "Can you imagine a student who wouldn't rather be here than the classroom?" asked Ann Pauley, of Harrisburg. Pauley is one of several retired professionals who serve as RAIL volunteers. She has written grants and completed other projects, Houck said. Thus far, Houck has completed work on the new park with volunteer labor, including Gary Runion and Wayne Compton, both of Mullens.
"They do all kinds of work for RAIL," Houck explained. Darren Lusk will soon move in equipment to level the parking area. "We couldn't do any of this without our volunteers," Houck emphasized. The only cost will be $2,000 for guardrails, he said. The Butler students spent one entire day working in the rain, Pauley said. "They were wet and muddy; I didn't hear any complaining," she said. "We are thrilled to be in your community," said Rachel Hahn, one of the student volunteers. "It's been a joy. We hope everyone comes out to enjoy the Guyandotte River Park." "It's exciting to see the trail finished," added Josh Etchberger, also one of the students. The students spent their fall break completing the work, staying in the Mullens Opportunity Center. Alex Petersen, also one of the student volunteers, has spent his last three autumn breaks doing volunteer work at similar locations. He said the students take such community service projects very seriously. "It's one of the most powerful experiences," Petersen emphasized.
– See more at: http://www.wycoreport.com/localnews/x703146498/New-roadside-park-being-constructed#sthash.jkA4mO8O.dpuf
---
July 29, 2013
Handicap Ramp Constructed
California troop, AmeriCorps volunteers team up in Mullens By Mary Catherine Brooks Wyoming County Bureau Chief Wyoming County Report Mon Jul 29, 2013, 05:01 AM EDT MULLENS —Moving in tandem, Boy Scout Troop D207, of California, worked alongside an AmeriCorps National Civilian Community Corps (NCCC) team at the Mullens Opportunity Center Tuesday. The Scouts were building picnic tables that will be placed at the campsites, and the picnic areas, behind the center. While the NCCC members assisted with the picnic table project, they also wheeled wheelbarrows of cement to
complete a 120-foot handicap ramp that will allow visitors access to the Guyandotte River, which flows behind what was once the grade school building in Mullens. Visitors with physical limitations may use their wheelchairs to fish, to picnic, or just sit by the water, according to Dewey Houck, director of Rural Appalachian Improvement League (RAIL). The complete campground project has been in the making for nearly two years and now boasts 10 sites with electricity, water, and sewage services, Houck said. Three primitive camp sites will sit on the banks of the river, he said. Additionally, the new ramp provides easy access to the Guyandotte and a hiking trail is also under construction. "Local people are taking advantage of this already," Houck said of the campground. "We've had some who've rented a month at a time." Nearly 200 Scouts have participated and signed the "RAIL board," with every state represented on the board. "Everybody that works on this project signs the board," Houck emphasized. He also noted that AmeriCorps NCCC teams from years past have signed the various projects that have added to the numerous services offered at the MOC, including the outdoor stage for community events and the museum exhibiting the area's coal and rail history. Additionally, the Scouts worked to create river access on state Rt. 10, between Mullens and Pineville, on a three-acre roadside park that will be developed by RAIL, Houck noted. Houck lauded his volunteers, most notably Gary Runion, who designed all the projects at the center and supervised construction. He also complimented Charlene Cook, who works with all the teams, the volunteers, and mans the center daily. "We've got about 35 volunteers and they all do a fantastic job," Houck emphasized. Houck said none of the projects would have been possible without the assistance of the AmeriCorps teams and volunteers. "There's no way we would have finished these projects without the help of the Scouts," he said.
---
January 28, 2013
Volunteers spruce up church at Tams
By C.V. Moore Register-Herald Reporter
It's midmorning, and a group of volunteers pauses its vacuuming and dusting to listen to a song of praise from the pulpit of New Salem Baptist Church in Tams. "I feel good, good, good down in my soul," sings Queen Schoolfield, born and raised in Tams and a member of church ever since she was a little girl. Back in those days, New Salem was full to brimming every Sunday. So was Tams. Now, the congregation has dwindled to about a dozen regulars, and the church is the only building left standing in the abandoned coal camp. But community members hope to breathe new life into this spot as a cultural heritage site. Backing Schoolfield up in the choir are volunteers of all ages who are participating in the yearly
Martin Luther King Jr. Day of Service. On Monday, the Appalachian Coal Country Team worked alongside the Rural Appalachian Improvement League's (RAIL) youth program to clean up the church, and an African American cemetery up the road. As he videotaped the performance, Dewey Houck, president of RAIL, said, "Coalfield history is important to us, and this is definitely a part of it." When the hymns are over, it's back to work. Wobbling on a ladder, a group of young people struggled to dismantle a ceiling light and rid it of dead insects. "I'm so happy they're cleaning those lights," said Schoolfield. "Thank the Lord." There's no question that New Salem is in need of some TLC, but it has obviously been well-loved by generations of congregants. Built in 1922, it served the black community of Tams through the heyday of coal mining in the Winding Gulf Coalfield of Raleigh County. Flanked by old portraits of its earliest pastors, its pulpit rises slightly above dozens of peach-colored pews. The late morning winter sunshine streams through its antique rolled glass windows, shaped in gothic arches. It strikes on old hymnals, fans printed with images of a black Jesus and plaques honoring congregants who have passed away. "In Loving Memory of Ivory Wiley Lavender," reads one. "She was like Queenie. If you got around her, you got a blessing," said Tom Cox of Stotesbury, a town right up the road. Cox is one of the leaders in the effort to restore historic structures along the Coal Heritage Trail and present them to visitors. As a boy, he sold loads of coal to area households, getting to know quite a few people in the Winding Gulf in the process. "This is the life of a coal camp, the church," he said. "When we were kids, life revolved around the church, and that lifestyle is drying up. If we don't save these structures, there's a way of life that's leaving here." Like many of the coal towns around it, Tams has a rich history that lives on mostly in memory and a few photographs, since its abandonment in the mid-1980s. Founded in 1909 by the coal baron W.P. Tams, owner of The Gulf Smokeless Coal Co., its
segregated neighborhoods included Upper Tams for African Americans and Hunk Hill for the foreign-born. Every house was painted white with green trim. "People often think West Virginia is an ethnically homogenous place, and this is one of the last physical relics in the Winding Gulf that is proof that that story isn't entirely true," said Jack Seitz, volunteer field coordinator for the Appalachian Coal Country Team. "I think it's neat and important that it challenges that stereotype." New Salem was one of two black churches in town; the three white churches were Baptist, Methodist and Catholic. After a 10-year community effort, New Salem will finally get a new roof this spring. There are plans to repaint as well. But it still needs running water, and even paying utility bills is a struggle. For years, Schoolfield has sold hot dogs and baked goods on the street in Beckley to keep the building heated. RAIL has a vision to turn places like New Salem Baptist Church into a basis for cultural tourism in southern West Virginia. They'd like to see the church on the National Register of Historic Places. They hope to restore the church at Wyco as a repository for coalfields history. They want to catalog and record coal camp culture by those who lived it. They see the Winding Gulf and its relics as a "Gateway to the Southern West Virginia Coalfields" on the Coal Heritage Trail. The trail includes 187 miles of "scenic industrial heritage" through a five-county region that reflects a "legacy of working-class culture, industrial might, racial and ethnic diversity," according to trail promoters. "We've got to protect and restore our heritage to build a new economy," said Seitz. ATV trails from nearby Burning Rock Off Road Park wind right past New Salem. That's one market to be tapped, said Houck. Another are the people who left the coalfields when the industry went bust. "You'd be surprised the number of people in the summer who return here. They show up in my driveway looking for help finding this or that," said Cox. "They are a part of our history and if we're going to attract visitors to our community to see what it was like 50 years ago at the height of the coal boom, then we've got to preserve these
churches," said Houck. But the group says it needs more support to make it work, whether in the form of cash donations or additional volunteer organizers. They want to create the Coal Heritage Trail Coalition of Volunteers for Community Enrichment to see the organization's goals through to completion. But on Martin Luther King Jr. Day of Service, they had hands enough at least to spiff up New Salem and also clean up the abandoned St. Johns Church cemetery for the African American coal camp at Stotesbury. Those buried at St. Johns include black veterans from World War I. At least one served with the 803 Pioneer Infantry Battalion, as reflected on a gravestone. Local residents want to preserve the foundation and corner stone of the church; put up a memorial to African American miners; and dedicate the cemetery to WWI African American veterans. Daniels resident Glenda Apple showed up in Tams to volunteer after searching for a nearby project on the Day of Service's official website. "When I saw what the project was, I thought it was very important for the area. I really think it's worthwhile," she said. Right away, Houck began recruiting her to become more deeply involved in the preservation work his organization wants to accomplish. Meanwhile, Tyler Stafford, a student at Wyoming County East High School, did janitorial duty in the church sanctuary. Stafford is a part of the West Virginia Coalfields Communities Youth Corps, RAIL's youth program for high school students. They work 18 hours a week after school on various community development projects. They get a paycheck, experience and mentorship. "I've met a lot of people and made new friends," said Stafford. "It's fun." The youth program's director, Charlene Cook, said it teaches students a work ethic that will come in handy later. "Your future wives will thank me," she told two teenage boys running a sweeper in the church basement. One room over, Schoolfield heats up water for cleaning. One day she hopes for a water hookup at the church, but for now she uses jugs that were purchased and hauled in. "I feel like a million dollars," she says. For more information on the Rural Appalachian Improvement League's efforts to restore relics at Tams, Stotesbury and other coalfield towns, visit www.railwv.org, send an e-mail to mullinsproject@aol.com, or call 304-294-6188.